Welcome to the CNS 2022 - 10th Thematic Conference
Advances in Nutrition and Immune Function
This one-day in-person (Toronto) and live-streamed event will address nutrition and immune function across the lifespan – from immune systems in infants/toddlers/young children through to older adults and will cover broad themes that include allergies/ oral and immune tolerance, dietary patterns, biomarkers of immune function, malnutrition in hospitalized patients, and vitamin and micronutrient from the perspective of "is there too much".
Conference Goals:
Create an understanding of the complex interplay between diet and the immune system across the lifespan – from infants through to older adults
Outline the causes that weaken the system and the resulting potential risks, including impaired responses to vaccines, severe COVID-19 and mortality
Illustrate the role of micronutrients and other minerals that are vital to the immune system
Present on current research that compares the impact of different diets and novel approaches that are shown to reduce inflammation, autoimmune conditions and infections and support immunotherapy
Acquire understanding and knowledge on how to implement dietary recommendations aimed at improving immune function into practise
Presentations will be made by leading experts and will offer the latest research and connect what this evidence means for those guiding patients in health practice.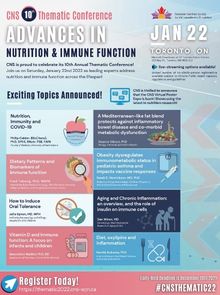 The CNS Thematic Conference provides a premier interdisciplinary platform that brings together multiple sectors within the nutrition community, including healthcare professionals, food and nutrition scientists, academia, industry, government and other not for profit organizations to exchange knowledge about the latest developments related to nutrition and immune function.
CNS is hopeful that we will be able to resume in-person participation along with live-streaming options, and is monitoring the situation closely. We will be limiting the number of in-person attendees and will follow all province of Ontario Public Health guidelines. Should we be in the unfortunate situation to have to cancel the in-person event, the conference will revert to live-streaming only on the same day and schedule, and all in-person attendees will receive the log-in information to attend virtually. Ultimately, the health, safety and well-being of participants, speakers, supporters and staff will be of utmost importance.
#CNSThematic2022 Download Flyer

Registration is now open! In-person, individual and group live-streaming registration options are available.
---